What's news in Millinery
Those of us who are interested the art of millinery, can't help but be attracted to the happenings of the industry throughout the world.
This page is dedicated to news worthy tit-bits which I believe is of interest. Because I will be adding to it as it happens it will be something like a newsletter.
I hope that you enjoy catching up with any 'gossip' I might post, and that you revisit to find out what is 'news'.
If you have any information that you think is print worthy, let me know and if I think it relevant, I can post it in this page. But, in the mean time, don't forget to check out the rest of my web pages to learn how to make hats and the history behind them.

Millinery, news and how to-----
---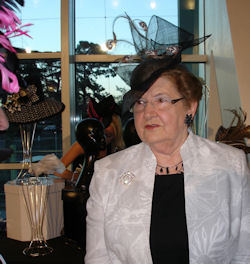 October 2008
Gwenda Baker inducted into the Victorian Racing Club Millinery Hall of Fame
Gwenda Baker, is a huge influence to me and I would put her in the category of my Mentor. She is a beautiful lady who has dedicated her life to millinery. Following is her history:
Gwenda Baker has always had a fascination to hats, even as a child. She left school at the age of 14, to work in what was called the manpower of the war. She was posted to the munitions factory where she made gloves for the servicemen who were using artillery that required gloves.
In order to boost morale during the war years the government of the time decided to include ladies hats as essentially available. This millinery factory was next door to where Gwenda worked, so this was inspiration enough for her to pursue a career in hat making.
As soon as the war was over, she promptly started her four year apprenticeship at J.W. Richmonds and Co. Ltd. in Adelaide, South Australia, where approx 100 girls worked making hats in three or four different rooms.
She had to move up the ladder of her apprenticeship, starting with cheaper styles, which were factory blocked. Some were altered to create slightly different styles.
She then moved on to the semi-model hat room, where the apprentices were expected to produce 3 melusene felts per day for the winter range, whereas the summer range included using a Dresdenture machine where Gwenda produced many straw braid hats using petite pearl through to the wider straw braids.
After she completed her apprenticeship in the model millinery workroom she continued working for the same company, during which time, she took a 6 months holiday overseas, where her employer instigated a guided tour of the hat making industry in Luton, UK and visited many hat shops in Paris, Milan and other European countries.
Gwenda left Richmond's in 1954, after 12 years of service, to take on being in charge of the workroom at Miller Andersons (A departmental store in Adelaide). During that time she also taught at the Institute of Technology, which was then the nucleus of what is now known as TafeSA. She started teaching two nights a week and after a time was employed full time at the Institute of Technology, (Adult Education Dept, Dept. of Further Education, TAFE) and then retired after over thirty years of teaching.
This did not mean that her skills were forgotten, for more than 20 years since her retirement, she has keep her finger on the millinery pulse. Gwenda continued to judge at the Adelaide Royal Show, and at other competitions run by department stores, John Martins and David Jones, as well as the Sunday Mail Foundation.
She also continued teaching hat making and French flowers as a recreational subject, conducting demonstrations and workshops including those at the 2003 and 2005 "Hats off to Adelaide" Millinery Conventions.
On reaching the age of 80, she has recently retired from Judging at the Royal Show after fifty years of service, for which she has been presented with a recognition award.
While Gwenda is a milliner trained in the techniques of yesteryear, she has kept a very modern view of the changes in millinery styles and techniques, and has always been keen to explore the new materials such as sinamay and the like.
Her expertise and enthusiasm to her craft and keeping the industry alive in South Australia cannot be surpassed. She has always been recognized for her excellence in millinery, even though she chose never to enter any hat competitions, mainly because she was either the lecturer or judging the event.
She has trained many South Australian milliners over the years including well known Melbourne Milliner, Robin Rivett and Rick McGill, who is now working in the film industry in Sydney, Australia, and has been responsible for the headwear in many films and productions such as Moulin Rouge, Star wars, and most recently "Wicked", to name a few.
Her favorite medium is working with felts, and using the hot method of blocking.
I truly believe that Gwenda is a worthy recipient of being inducted into the Hall of Fame for her services to the millinery industry.
---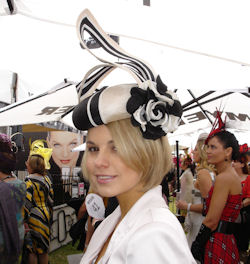 November 2008
Victorian Racing Club Millinery Competition
I travelled over to Melbourne for Oaks Day, which is part of the Spring Racing Carnival. This is Australia's version of Ascot, and is a world renown Racing Carnival.
The Fashion on the Field events are very big and considered a huge part of Victorian Racing and anybody who is anybody looks forward to the Fashions on the Field.
I am really proud to say that my entry into the Millinery Competition was selected in the finalists. (Picture)
The Winning hat was by Liza Stedman, second was by Louise MacDonald and third by Rebecca Thompson. Check out The Hat Magazine for pictures of the winners.
---
February 2009
International Millinery Forum 2009
Wagga Wagga, New South Wales. Australia, was that place to be in January 2009. Unfortunately, I was unable to attend this time, but from the reports I have had it was really good.
If you haven't ever attended a Milliner's Convention, it is a really worthwhile experience. You have the opportunity to spend a number of days dedicated to all aspects of hat making.
You are surrounded by like minded people, all soaking up the joy of other's experience and knowledge. The tutors are willing to pass on techniques they have perfected and the fellow delegates seem willing to share what they learn.
The social events are as important as the workshops, they allow those attending to interact with others and most delegates wear their own creations so it's like having a hat parade where you are up close and personal.
Although I haven't had final confirmation. I believe the next Millinery Convention in Australia is in Melbourne, somewhere around July, 2010. As soon as I know I will post the dates.
By the way, these are not restricted to Australian delegates, International Tutors and delegates come from all over the world to attend.
---
January 2009
Victorian Bush fires
The devastating effects of the Victorian Bush fire has filled our News media ever since it happened. I am sure that those of you living overseas have also heard about it.
One of our Australian colleagues has lost her home and her studio. Imagine suddenly not having all your equipment, your supplies and your space, and losing everything, and I mean everything right down to your toothbrush, in a matter of minutes.
Worst still, imagine losing your family, friends, relatives, pets in such a ghastly way. Anyone who hasn't been through it, couldn't possibly imagine how it would feel and the ongoing repercussion of something like this.
Our thoughts are with Caroline Schoo and her family and, in fact, everyone who have been effected by this disaster.
---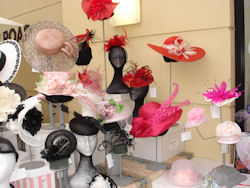 April 2009
Victorian Bushfire Fundraiser
I am involved with three other Milliners, where we set up a "Kiosk" style shop "Studio Hats" at the Metro Shopping Centre, Unley Road, Parkside, Adelaide, South Australia. This is active for five or six weeks prior to Adelaide and Melbourne Cups, and when we are not there we work out of own individual Studios at our own homes. Pictured is a portion of one of our displays.
On the Tuesday before Easter, we hosted an EASTER PARADE - NEW YORK STYLE Cocktail Party, where we raised money to aid the Save the Children Foundation in their quest to provide toys to the children effected by the Victorian Bushfires.
We had a fantastic response and would have had approx 120 people attend, wearing either their serious fashion hat, an Easter bonnet, or a novelty hat to be judged as the best.
Prizes were sponsored by some of the traders, and the Centre Management also came on board with $$$ support, enabling us to pass on 100% of the money raised to the Save the Children fund.
The reason I am posting this event is to let you in on an idea for a fund raising event which was very easy to organize, promotes the wearing of hats, and raises money for your favourite charity.
It was fun, we served Champagne and finger food from 6pm - 8pm. We had a live musician playing music from the popular musicals and, of course, Easter Bunny attended. So you can see it was short. sharp and shiny, but raised the funds required for the course.
---