Top Hats -
a Picture of Elegance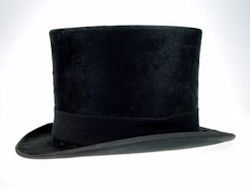 There would not be too many people who have no knowledge at all of Top Hats and, as with other types of hats, it are also known by different names. This particular hat is often referred to as a Topper or a Stove Pipe Hat, and dates back to the 19th Century.
Traditionally, the Top Hat has a tall crown with a flat or slightly curved tip. The crown is often flared at the turn of the tip, unlike the Stove pipe style, a favourite of Abraham Lincoln, was twice as high and resembled a length of piping, and the brim was wide and flat. It was usually black and was trimmed with a wide band of grosgrain or silk ribbom.
The Top Hat was popular for daily business wear as well as formal wear, but lost it's appeal in the early 20th century and was replaced with other styles, such as fedoras and bowler hats.
A callapsible hat of the same style, made from silk, became a popular piece of fashion for men who frequented the theatre, because it folded down flat without becoming a nuisance during the show. While the topper continued to be a symbol of proper formal dress, its use tended to be relegated to events such as formal weddings, and social events like balls and debuts.
These days, women have included the topper in their list of hat styles, they are worn in miniature versions as well as traditional styles. The Bridal industry often show this style of hat in their related magazines for both males and females.
The movie industry often included these hats as part of essential dress when the motion picture was set in high society. Rock and roll musicians of the 60's often adopted the topper as part of their mode of dress.
Today, the top hat continues to be worn as formalwear, showing up on limited occasions that are considered to be extremely formal and important. These formal events seem to be few and far between, but the tradition will no doubt continue to live on as a sign of elegance and taste.
Here in Australia, the Melbourne Cup, the horse race which stops the nation, held on the first Tuesday of November each year, is such an event where men's fashion displays this sign of elegance and taste. Not only at the Flemington Race Course, where the Race meeting is held, but all over the country, people attend Luncheons and race meetings, where they dress in the same manner as they would if they were attending the event in Melbourne.
Top Hats are often used in magic tricks, and the most common variety of the topper used in magic is the stovepipe hat, since it is easy to manufacture and, I guess, allows the illusionist to hide a lot more in the high crown.
Traditionally, these hats must be carefully made, usually by a skilled hatter, and the ability to make such hats is decreasing along with the demand for them.
Stovepipe hats have also been worn by prominent entertainers, ranging from Fred Astaire to Giuseppe Verdi, and many rockers have donned the top hat as an ironic statement in performances.
It can be challenging to find a stovepipe hat. If you live in an urban area, you may be able to find a hat supply which carries them, or could at least size you for a hat.
If such a resource is not available, a number of hat retailers sell their products online. Make sure that you understand the terms of a store's return policy, however, as an ill fitting stovepipe hat can be a disastrous purchase.
Some of these firms also offer novelty hats inspired by the stovepipe hat, such as floppy hats in patriotic colors for parades and lampooning purposes. Today, these hats are more often seen as parts of costumes, rather than as true formal wear.